Reiki for Dogs
Dogs are very much like us in the fact that they have universal life force energy running through them and so therefore have the seven chakras as well. So Reiki can help dogs in the same way as it can help people.
Like people, dogs can suffer from stress and anxiety these days. Even the most liveliest of dogs can respond well to having Reiki, usually becoming calm and relaxed by the end of the session. I provide Reiki for dogs in their owners homes in London.
My dog is lucky enough to have a Reiki treatment almost every night when we are BOTH watching the television!
Dogs can be treated to a whole Reiki session (all hand positions) along the chakra points, or rather like people, can be treated to just one problem area for the entire session if this seems more appropriate and the dog will allow it.
Dogs will only take as much or as little as needed on that particular day so they are very much the boss! I treat dogs in their own home where they are comfortable and at ease.
Dogs are less prone to suffer from a healing crisis as people. Having said that sometimes if they are congested they might react by having a runny nose, or if they are suffering from a skin complaint they might scratch a bit. This is a sign that the toxins are leaving the body.
Remember, dogs tend to mirror their owners on an emotional and mental level so Reiki can help both parties in this stressful world we live in.
Please Note: Any information and treatment is not intended to be taken as a replacement for professional medical or veterinary advice. Reiki is a complementary therapy to be used alongside treatments and advice given by vets or a qualified medical practitioner. If your dog is under going treatment, please get written permission from your vet.
Reiki for Dogs Treatment Costs: £35 – FIRST SESSION FREE
Reiki Sessions for Dogs last about 45 minutes. This includes travel time within London and costs.
Cash or cheque accepted.
---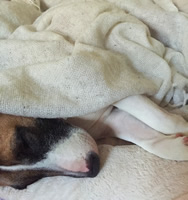 "I think you're a magician to be honest. She's been so much better on our transport journey back than she was before. She's also been way more attentive and receptive to my voice! She's snoozing now, thank you so much, and we'll see you next week!"
"Maybe" the rescue dog was very anxious and hyper. Maybe's owner lives in London
---
"Frosty and Milly were so relaxed during the Reiki sessions - Frosty laid down and Milly sat very still. Milly is usually hyper-active and I was really surprised how still she kept while she was being treated. For the next few days, I noticed that the dogs were much calmer and not as agitated as usual. The territorial barking habit also improved. I would highly recommend Reiki for dogs."
Rebecca, London
---
Cancellation Policy: Please let me know at least 24 hours in advance if you need to cancel your appointment.
Cancellations within 24 hours of your appointment will be charged at the full appointment rate. Cancellations a minimum of 24 hours in advance of your appointment will not be charged and we will aim to rearrange your appointment within 14 working days.